20-PANEL THROW BLANKET – BLANK FOR SUBLIMATION PRINTING
Join our exclusive group buy for panel blankets! Discover the perfect blend of art and comfort with these customizable 60″ x 40″ blankets. Act fast, as the group buy will close on May 26, 2023. Place your order now to receive your blankets by the end of July, after production and sea shipping. Please note that cancellations are not permitted unless there is a delay caused by the supplier or delivery time.
Description
Description
20-PANEL THROW BLANKET – BLANK FOR SUBLIMATION PRINTING
Experience ultimate comfort and personalization with our  20-PANEL Throw Blanket designed for sublimation printing. Crafted with care, this versatile blanket offers two incredible options to choose from.
20-PANEL Blanket – Made with 20% cotton and 80% polyester, this blanket strikes the perfect balance between comfort and durability. Each white panel measures approximately 8×10″ (sizes may vary slightly) and is specially designed for sublimation printing, making it an excellent choice for smaller printers. The fringe detailing in black and white adds a stylish touch to this cozy blanket.
20-PANEL Premium Blanket – Elevate your sublimation experience with our premium version. Featuring a woven side made from 20% cotton and 80% polyester, it offers a soft and luxurious feel. What sets this blanket apart is the soft black velour backside, adding a touch of elegance and warmth. With this premium option, you'll enjoy the perfect combination of comfort, style, and customization.
Both options provide a large canvas, measuring 60″ x 40″, allowing you to unleash your creativity and bring your designs to life. Whether you want to showcase memorable photos, unique artwork, or vibrant patterns, these throw blankets are the perfect medium for your personalized touch.
Ideal for cozying up on the couch, adding a decorative accent to your space, or gifting a truly special keepsake, our 20-PANEL Throw Blankets offer versatility and endless possibilities. The soft feel, impeccable printing surface, and attention to detail make them a must-have for anyone seeking comfort and personalization.
Embrace the power of sublimation printing with our Panel throw blankets. Choose your preferred option and let your creativity soar. Order now and transform these blank canvases into cherished pieces of art and warmth.
---
LOOKING FOR A DIGITAL MOCKUP FOR THIS PRODUCT? CLICK THE IMAGE BELOW.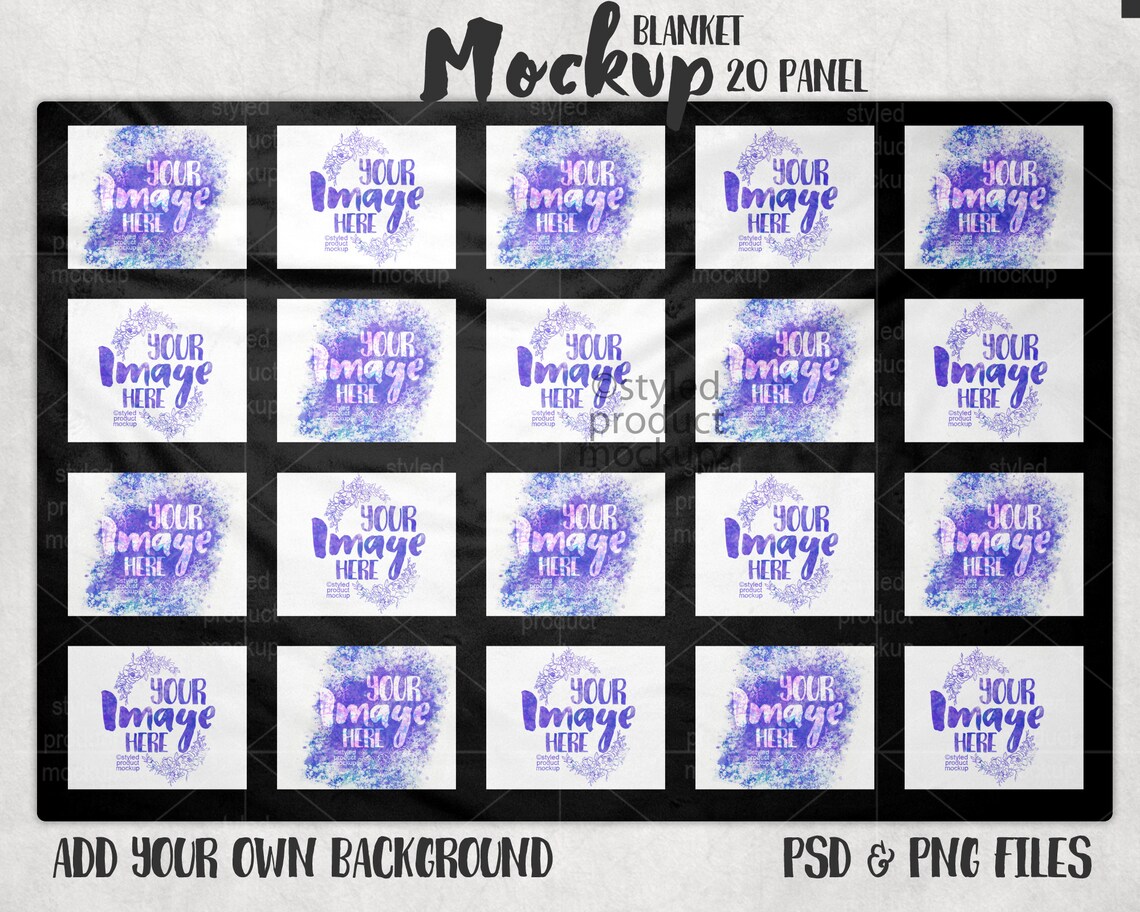 ---
Please note, a 3% handling fee is applied to all orders. But with the high quality of these blankets, they are definitely worth the investment.
---
PRESSING INSTRUCTIONS:
Please note that the following pressing instructions serve as a guideline, and adjustments may be necessary based on your specific heat press equipment.
Set the temperature to 385 degrees Fahrenheit.

Prior to pressing, use a lint roller to remove any loose fibers from each white panel.

It is crucial to pre-press EACH PANEL individually. Apply medium pressure and pre-press for 25-40 seconds. This step helps tighten the weave and may cause a slight shrinkage in the panel.

Place your sublimation paper with the printed side facing down onto the white panel. Secure the paper in place using either heat-resistant tape or a spray adhesive.

Adjust the pressure to a medium level.

Press the panel for 70 seconds. Ensure that the heat press maintains a consistent temperature throughout the pressing process.

After the pressing cycle is complete, remove the paper immediately to prevent any undesired heat transfer.
Note: It is crucial to exercise caution when handling the heated panel. Use protective gloves or heat-resistant tools as necessary.
Remember, these pressing instructions provide general recommendations. Always refer to the instructions provided by your specific heat press machine manufacturer and perform test prints to achieve optimal results.
---
Additional information
Additional information
| | |
| --- | --- |
| CHOOSE OPTION | 20 PANEL BLANKET, 20 PANEL PREMIUM BLANKET |
Reviews (75)
Only logged in customers who have purchased this product may leave a review.